By: Surabhi Yadav | Publish Date: Wed 31-Aug-2011 05:28:00 PM (IST)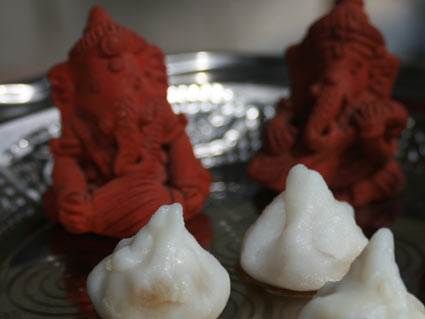 Ganesh Chaturthi, the birth anniversary of Lord Ganeshji. The festival is celebrated for about 7-10 days. Lord Ganesh love sweets and so a festival dedicated to Lord Ganesha will always be incomplete without special sweet dishes. There are a variety of sweets made on this occasion, with the most popular one being Modak.

The enjoyment of this ten days festival can be doubled by preparing sweets and delicacies, like modak, besan ke ladoo, puran poli, rawa ladoo. Lets us check out the recipes for some of bappa's favorite sweet dishes.

Modak recipe


Ingredients
• 3 cups Rice Flour
• 6 cups Water
• 6 tsp Oil
• 4 cups Grated Coconut
• 2 cups Sugar or Powdered Jaggery
• A little Milk

Method
• Bring the water to a boil and add oil into it for the outer covering. Take off heat.
• Now add the rice flour, little by little to avoid lumps and cover the mixture and let it cool.
• When cool, knead it well into dough with a smooth finish in such a way that it should sparkle.
• Now take the coconut and Jaggery / sugar in a heavy-bottomed pan for the stuffing. Add milk. Keep on low flame with stirring. Stir and take off heat.
• The mixture should be fairly dry and turn a shade darker. Now make balls with the (covering) dough.
• Flatten them on the palm or on a surface into a circle. Place the stuffing in it and cover it completely with the dough. Fold the edges tapering to the centre. Now steam-cook the modaks in a cooker for 15 minutes until done. Hot modaks tastes delicious.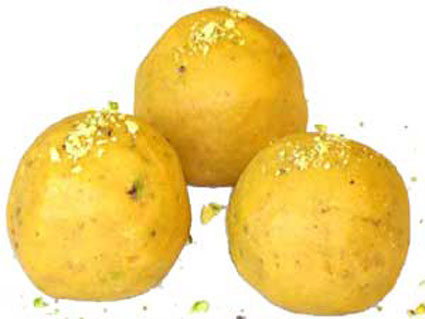 Besan Ke Ladoo recipe

Ingredients
• 2 cups Gram Flour (besan)
• 1 1/2 cup Sugar (grinded)
• 1 cup Ghee
• 1 tsp Almonds (chopped)
• 1 tsp Pistachios (chopped)
• 1 tsp Cashew Nuts (chopped)

Method
• Mix gram flour and ghee over a low heat in a kadhai and constantly keep stirring to avoid lumps.
• When it releases an appetizing smell remove it from the heat and allow cooling.
• Add sugar and nuts to the gram flour and mix thoroughly.
• Now form ping-pong size balls of the mixture.
• Ladoos are ready to be served.

Rawa Ladoo recipe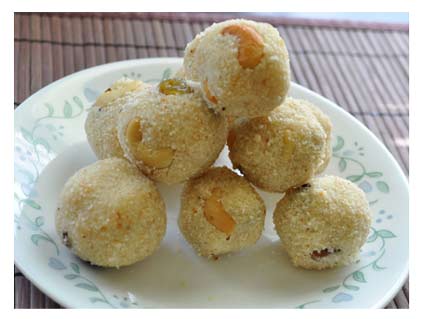 Ingredients
• 100 gm Semolina (Suji/Rava)
• 250 ml Milk, toned
• 10 g Ghee
• ½ cup Sugar, powdered
• 1 pinch Cardamom

Method
• Roast semolina in a non-stick pan on low heat till it slightly turns brown.
• Add ghee and milk.
• Stir till mixture becomes sticky.
• Add powdered cardamom and mix.
• Remove the pan from heat and add the sugar and mix.
• Form the dough in to small balls.
• Serve when dry.

Puran Poli recipe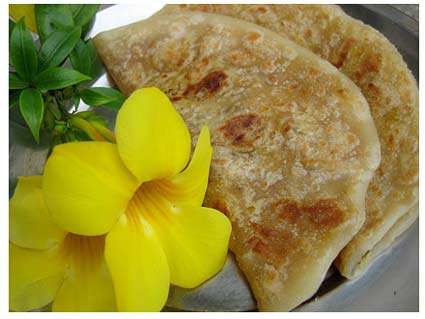 Ingredients
• 1 cup Maida
• 1 pinch Turmeric Powder
• 1 pinch Salt
• 2 tsp Ghee
• Water, enough to make dough
• 6 tbsp Oil
• Oil / Ghee, for frying

Inner Filling
• 1 - 1/2 cup Jaggery
• 1 - 1/4 cup Bengal Gram Dal
• 1/4 tsp Cardamom Powder

Method
• Blend the ghee and masala with the maida.
• Using water make a soft smooth dough. Leave under a wet cloth for 40-50 minutes.
• Knead the maida again. Put in the 6 tbs oil and knead till completely absorbed. Cover and leave aside for 4 hours.
• Put the dal in the cooker till one whistle.
• Drain the water.
• Grind the dal to make a paste with the jaggery and cardamom powder.
• Remember that the filling should not be watery.
• Make small balls of the filling. Divide the dough into small balls and flatten them.
• Place one ball of filling on the dough and cover and seal up the filling.
• Carefully roll out the dough into thick puris making sure the filling does not come out.
• Fry on a tawa pouring ghee around it. Cook on both sides.